"Jack's email copy is so well-written, it almost leaps off the page. He really knows how to "paint the picture" and turn a ho-hum message into a red-hot revenue generator!"

Jay White
www.AutoresponderApprentice.com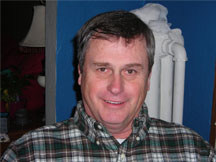 Jack has been a member of American Writers and Artists Institute since 2007. Along with completing many writing and marketing programs offered by AWAI Jack has recently completed Jay White's Auto Responder Apprentice as well as the advanced course where he has demonstrated a flair for the nuances of Email and Auto Responder Marketing.
Throughout his career Jack has been a sought-after speaker where he has learned the value of writing with purpose and efficiency. This has led Jack to progress into writing online video for the B2B market.
Before honing his copywriting skills Jack spent a career in the Parks and Recreation Field.
In his retirement years he has been an advocate for abused and neglected children and a high school baseball coach. Along the way he has managed to build his dream, a log vacation home where he can while away the days with his grandchildren.
Jack currently lives in St. Paul Minnesota with his wife Louise. You can visit him at www.jpalmerwrites.com